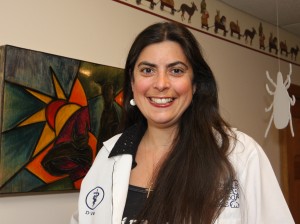 Dr. Sandy M. Vaghetto received her DVM degree in 1992 from the University of PA School of Veterinary Medicine. She also attended Duquesne University and graduated with honors in Biology. Dr. Vaghetto is a Pittsburgh native and her heart is shared between her love of pets and her beloved Steelers.
She has been in practice in the Butler, PA area for the past 20 years and has established the Crossroads Veterinary Hospital. She is a strong supporter of Butler Catholic School, St. Michael's Church, and the local fire department.
Dr.Vaghetto is also a member of the AVMA (American Veterinary Medical Association) and the local WPVMA (Western PA Veterinary Medical Assoc). Along with her varied experience in general small animal medicine and surgery, she has special interests in the study of dermatology and ophthalmology.
She credits her life achievements and success to her faith, her family and her excellent staff.